SYNLAB, commitment to quality
SYNLAB meets the needs of its customers by complying with standardized and demonstrable quality levels, based on ISO 9001, ISO 14001, ISO 15189, ISO 17025 or CAT standards, as applicable. This includes compliance with all applicable legal and regulatory requirements.
Consult our certificates:
Note: the list of accredited analyses can be requested from our Quality Management Unit.
Our aim is to offer a quality service in all diagnostic categories to benefit your health.
Our organization's activity is based on professional ethics which lead us to offer the best diagnostic service with the highest technical and human quality and innovative capacity, while controlling costs.
SYNLAB defines and applies procedures for selecting the best suppliers of materials, reagents and equipment, for training of all personnel directly or indirectly involved in the analytical work and for implementing internal and external control mechanisms for the quality of the processes.
Likewise, as a customer-focused service provider, self-monitoring by the organization is ensured in order to achieve continuous improvement in all laboratory processes and services, and in all aspects related to patient safety, promoting the use of the process approach and risk-based thinking.
SYNLAB has a firm commitment to training, to raising awareness and motivating all staff to pursue continuous professional advancement, and to promoting teamwork.
Management's commitment to the Quality Policy entails provision of the necessary resources to ensure that the policy is known, understood and implemented at all levels of the organization.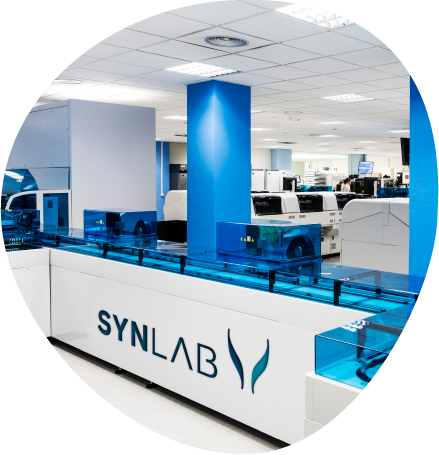 Contact